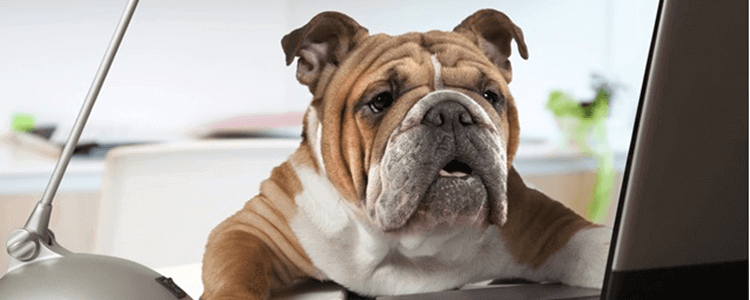 Research by the International Journal of Workplace Health Management revealed that the presence of dogs in the workplace not only boosted morale but also noticeably reduced stress levels.
Dame Fiona Kendrick, Chairwoman and CEO at Nestlé UK & Ireland, is a true advocate of welcoming four-legged friends at the Nestlé UK headquarters in London where over 60 dogs are registered.
In a recent appearance, Kendrick said: "We see our workplace environment as a very important part of employee wellbeing. And so to that end we decided to invite our four-legged dog friends into work. We believe that investment in our employees, to help their broader physical and mental health, is so important.
"Life is, obviously, pretty stressful for a lot of people, and I think it is therefore businesses responsibility to step up, recognise that and play their role in it."
Recent research by Reed.co.uk indicated that around 8% of UK employees are permitted to take their dogs to work, and according to further research by Stephen Colarelli, one of the psychologists at Central Michigan University, there are three clear advantages to the presence of dogs at work: "First, dogs lower stress, heart rate and blood pressure, and make individuals who work alone feel less lonely. Second, people are perceived as more friendly and approachable when a dog is present in the office. Finally, it's likely to increase cooperation and other positive behaviours among members of work groups."
Of course, there can be drawbacks as with any new-fangled office initiative. Allergies, noise, mess and a moving yardstick (what will be next? cats, birds, llamas?) could substantiate why 8% of UK employees can bring their dogs to work, not 80%.
We want to hear from you - whether you manage a team or office, have a pooch you wish you could bring to the office or are horrified at the very concept, email Ami at aglass@sheridanmaine.com to share your view.
Sheridan Maine's unmatched knowledge of Finance and Accountancy Recruitment is why they are the go-to specialists for permanent, contract, temporary and interim positions for a broad range of clients across Basingstoke, South Hampshire, Bournemouth, Bristol, London and Birmingham.